Welcome to the first Friends Having Fun Recipe Challenge!!!
Once a month we will be bringing you a special recipe for you to work with and see what you can cook up!! Don't limit yourself to what you come up with! It can be anything that you can fit the recipe to, so lets see what you can create!!
Here's your recipe for this month...
Use at least 3 patterns paper (Your 3 patterned papers must be handcut!! NO CUTTERS...ahhhh)

Use something shiny (stickles, glitter, glossy accents...etc.)

A funny phrase, sentiment or quote
The winner of this challenge will win a $10 Gift Certificate from our sponsor: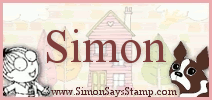 Ok so here's my project that I came up.
So handcutting is always a challenge for me, well when it comes to straight lines. Heck I can't even walk straight, so me and a pair of scissors don't always go well. Thank gosh for square rulers, but I still don't think my sides are straight lol
My shiny is found on my image..."Pearls and Leather" by Stitchy Bear Stamps. I colored it with my copics using V12, V15, and V17. I used InkEssentials Glossy Accents and Lavendar Lace Liquid Pearls. You can see it a little better in the picture below. I've also got shine through one of my patterned papers.
The three patterned papers I used are from DCWV All Dressed Up paper stack and Me & My Big Ideas Black & White Specialty Cardstock stack.
The sentiment I used is computer generated. "They say money doesn't buy HAPPINESS! Apparently they're shopping at the WRONG stores!"I love this saying because it's soooo true!! On my worst days, even if it's only for five minutes, I can go into a store and come out a happy girl!!
We hope you'll join us in this month's recipe challenge. You have until next Saturday, midnight EST to submit your recipe project HERE!
Please stop on by the FHF Recipe DT to see their creations:
I'm entering this in the following challenges:
Magical Crafts Fortnightly Challenge -- For the Girls
ABC Challenge -- S is For Sparkly
KL Stampin N Scrappin Blog -- Bling It On
Crafty Angels -- My Favorite Things (Glossy Accents & Liquid Pearls)
Penny's Paper-Crafty Challenges -- Anything Goes
Cute Card Thursday -- Touchy Feely
Stamp Something -- Something Layered
The Crazy Challenge -- Don't Call Me Flat
My Time To Craft -- Pretty Pearls
Meljen's Designs -- Add those 3D Elements